Kosher Connection made minis, in the month of January. In the midst of making a wedding, is not the time to participate. Although, I made the dish, the date for linking up, was too close to the big day.
The recipe, I did make, was quite good and I do want to share it with you. It came from Bon Appetit and originally was a pie. It used a prepared pie crust so if anyone wants to use this as a filling, fill it and bake.
Minis are fun and good and I recommend them. I love the way, portion control, falls into place. There is rarely waste on a dish with minis.

Ricotta Spinach Pie Bon Appétit | March 1996 (adapted)


Yield: Serves 6

2 tablespoons olive oil
1 large onion, chopped
1 10-ounce package frozen chopped spinach, thawed, squeezed dry
1/2 teaspoon pepper
1/4 teaspoon ground nutmeg

1 15-ounce container ricotta cheese
8 ounces mozzarella, grated
1 cup grated Parmesan cheese
3 large eggs, beaten lightly

Method:

Preheat oven to 350°F. Spray mini baking dishes with olive oil.

Heat oil in heavy large skillet over medium heat. Add onion and sauté until tender, about 8 minutes. Mix in spinach, salt, pepper and nutmeg. Sauté until all liquid from spinach evaporates, about 3 minutes.

Combine ricotta, mozzarella and Parmesan cheeses in large bowl. Mix in eggs. Add spinach mixture; blend well.

Spoon cheese mixture into mini dishes

.

Bake until filling is set in center and brown on top, about 40 minutes. Let stand 10 minutes.
These are adorable and delicious. I can see varying this with broccoli in place of spinach. I would chop it for use.
Looking back:
Spaghertti with Mushroom Bolognese from Simple Gluten Free Kitchen
Spinach and Cheese Strata from
Flavors by Four
Simple Spanish Garlic and Egg Soup from
Tessa the Domestic Diva
from Ladled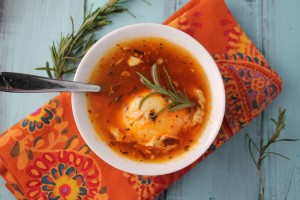 I enjoy your additions, each week and I thank you for sharing with us. What do you have, this week?