While others look for recipes for fancy cakes or chocolate goodness, I look for plain cakes or nut cakes for the love of my life. Nothing like a plain pound cake. I guess with some flavori

ng and nuts, it does take on its own personality. When you additionally, put too much batter into one pan, you also have a unique shape. So this is my Not So Plain, Plain Pound Cake.



Plain Pound Cake (adapted from Ina Garten)

Ingredients :

1 cup oil minus 1 tablespoon
2 cups granulated sugar, divided
4 eggs, at room temperature
3 cups gluten-free flour
1/2 teaspoon baking powder
1/2 teaspoon baking soda
1 teaspoon kosher salt
3/4 cup Rice Dream with a teaspoon of vinegar, at room temperature
1 teaspoon pure vanilla extract
1 teaspoon amaretto extract

Method

Preheat the oven to 350 degrees F. Spray a large loaf pan plus a small baking dish

3 x 3.



Mix the oil and granulated sugar in the bowl of an electric mixer fitted with the paddle attachment for about 5 minutes, or until light and fluffy. With the mixer on medium speed, beat in the eggs, 1 at a time.

In a large bowl, sift together the flour, baking powder, baking soda, and salt. In another bowl, combine the Rice

Dream

and vanilla & amaretto ext

racts

. Add the flour and R

ice Dream

mixtures alternately to the batter, beginning and ending with the flour.
Divide the batter evenly between the pans, smooth the tops, and bake for 45 minutes to 1 hour, until a cake tester comes out clean. The small pan should be checked at 30 minutes.

When the cakes are done, let them cool for 10 minutes. Take them out of the pans, place them on a baking rack and allow them to cool completely. Wrap well, and store in the refrigerator.
Looking back:
I couldn't resist this Chocolate Cherry Cheesecake from
Thrift Craft and Create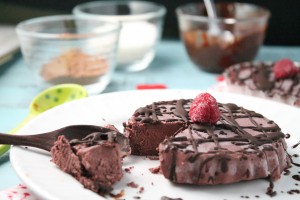 I am certainly hungry but I have nothing like these three in my kitchen so I am opening the floor to you lovely people. What do you have to share with us?