How many of you remember Tyler Florence Fridays? That was a happy cooking time, for me. I discovered a ton of new recipes from Tyler and we ate them with relish. (not the kind you can touch) When his recipes were no longer shared weekly, I missed his guidance but went on and put Tyler, on the back burner. I really don't think, he belongs there. I should be keeping my Tyler cookbooks in the kitchen so they will be more readily available, when I need a super recipe.
Today, I fell into this recipe when I searched for a brown rice with apple recipe. I made a smaller amount than the recipe called for and I added some orange zest.
2 cups cooked brown rice
1 Granny Smith Apple, diced
1 celery stalk, finely chopped
1/2 red bell pepper, chopped
1 green onion, chopped
1/2 cup pecan pieces
1 tablespoon orange zest
1 tablespoon flat leaf parsley, chopped
2 tablespoons apple cider vinegar
1 tablespoons lemon juice
1 tablespoon olive oil
Salt and pepper
Method:
In a mixing bowl, combine cooked rice with all other ingredients. Toss mixture lightly. Serve at room temperature or chilled.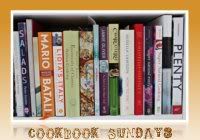 Real Food Wednesdays