I saw this recipe on Mom Trends, a truly fantastic site with all kinds of goodies, in many interesting areas, for all of you. In the food section was this recipe for apple fritters, except that the one there had an icing on the fritters which would not work, with my family. I made just the fritter with large chunks of apple and it was a huge success. Stop by Mom Trends to see the really delicious
"Amazing Apple Fritter"

.
Apple Fritters

Ingredients:
1 tablespoon Canola oil

1 cup gluten-free flour mixture
1/2 cup Sugar
2 teaspoon baking powder
1 teaspoon cinnamon
1/2 teaspoon nutmeg
1 teaspoon salt
1/2 cup Apple Sauce
1 large apple, cut into good sized chunks
1 egg
1/4 cup Rice Dream
Method:

In a large bowl mix all dry ingredients with the Rice Dream, egg and apple sauce. Once well mixed, fold in the diced apples.

In a large frying add canola oil. Heat until oil is hot.

Add 1/4 cup of batter to the hot oil.

Fry for approximately 2 minutes and then flip and continue to cook the other side for an additional 2 minutes. Remove the fritters to a wire rack to drain excess oil.
Serve with maple syrup or jelly.
Let's look back to last week and see what we could choose from.
My Skinny Tale wrote a great article to help us eat healthily, Super Foods to the Rescue.
Roasted Eggplant and Basil from Beyond the Peel is calling my name.
Then we have Creamy Caprese Pasta from My Road to Savings
Last but not at all least are these Red Chili Enchiladas from MJ's Kitchen. For more chili recipes, she has a series for you to select from so what are you waiting for. Get over there and enjoy.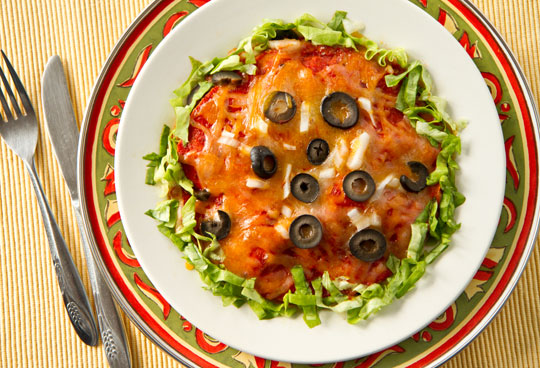 Pancakes are always good for My Meatless Mondays. Other foods, we like to have on Mondays are cheesy dishes such as Broccoli Stuffed Potatoes, Mac and Cheese, Soups Galore, Egg Dishes and Fish. What about you. Share on our linky so we can expand our horizons.