We had our family Chanukah party and I am happy to say that most of the food is gone. Since, we had the party as soon as the Sabbath was over, we had to make this an easy meal. With no prep time, bagels, cheese and lox was prefect. We had just enough time to make cheese latkes, served with maple syrup or delicious, plain.
We had out annual chocolate fondue spectacular, borrowing the fountain. There were all kinds of sweets, candy, cookies, cakes and lots of stuff to dip into the fondue.
Daughter-in-law 1 brought a scrumptious salad which could be my favorite dish, of the evening.
All in all, it was a success and now we are facing food again, for lunch. I figured that it had to sound good after all the eating, we have been doing. I am not sure what is better than potato soup with lox.
Ingredients

---
1 ounce olive oil

1 chopped onion

3cups vegetarian broth

4 Tbs chopped fresh dill

1 teaspoon lemon juice

4

smoked salmon slices, chopped

salt and pepper to taste




Method:
Heat oil in a large saucepan.
Add the chopped onions and cook, stirring until softened. Add the diced potatoes and vegetable broth bring to the boil and then simmer gently for about 10 minutes or until the potatoes are cooked.

Using immersion blender, blend soup ingredients together making either a chunky or smooth soup, according to your taste.

Put back on the heat, add the milk, dill and lemon juice, reheat until hot.

Mix in the chopped salmon and season with black pepper.
This is just right for a cold day. The potatoes give the soup a heartiness. All the flavors blend together to make deliciousness.
For me, this is a delightful, warming soup for My Meatless Mondays. Let's see what we can find, from last week that will warm us up.
Let's start off with this Dairy Free Scalloped Potatoes from Tessa The Domestic Diva. I do love potatoes. (Gluten-free)
Garden Fresh Broccoli Pizza from The Adirondack Chick. Isn't it wonderful, we can make pizza that is fresh and exciting and gluten-free.
Look at this one, that pumpkin is filled with
Our dessert comes from Winnie's Blog and is
Ginger Biscotti-
Adorable and Delicious.
We are certainly well-fed this week. Please stop by some of our links. I am finding fabulous blogs behind the recipes.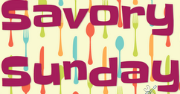 If you have something to link up, this week, you are warmly invited to. Thanks for your support. I hope you all find new recipes for yourselves.