This is my first meatless Monday guest post and I am excited to do this. I have a guest writer who many of you already know, but I am going to let Anne introduce herself.
I first met Anne when I visited the Saturday Evening Pot and was so impressed that I found myself, visiting quite often. There was always something going on and one could easily see there was a vision behind this site and that great things were going to happen. I am enjoying my travels along with the Lucky Wife and The Chef and I am loving all the recipes, you guys are linking there. When you come to My Meatless Mondays, think of hopping over to the Saturday Evening Pot, afterwards.
There is a lot going on at the The Saturday Evening Pot,

and if you have not been there, the time is now to find out where the fun is. There is a lot more than fun though so check it out, for yourselves and enjoy.
*********************************************************************************************
Hello, Everyone! Let me introduce myself... I'm Anne, better known as The Lucky Wife over at

The Saturday Evening Pot, another food blog

co-authored by myself and my husband, John, better known as The Chef! I gave him his title when we started our blog just this

past January.
He is The Chef in our home, and I am lucky (or blessed, as I prefer to say!) to enjoy the creations that come from him out of our kitchen. I'm also lucky that I rarely have to touch a pot or a pan to cook, because we made a deal when he went to culinary school over 10 years ago that he would do the cooking in our home if I worked to support us while he went back to school! Yes, he has definitely held up to his end of the bargain, not that it's any chore for him to do so. He truly loves cooking and our family truly enjoys getting to be the taste-testers!
Several years ago, we discussed a desire to move towards eating a little less meat in our diet for better health. We love meat but we value our health enough to cut back on the meat some. However, it has not been a goal at which we have been very successful, for different reasons. When I discovered Chaya's Meatless Mondays, I thought, What a neat idea and a great resource for me to find some new ideas for The Chef to try! :)
I was thrilled when Chaya joined in our

Monday link-up parties

as well, and especially when she contributed her

Balsamic Zucchini and Red Peppers

. I love balsamic vinegar, and her recipe sounded so tasty. While I'm not good at getting creative in the kitchen, sometimes I do brainstorm about different flavors, especially since The Chef graduated from culinary school. After seeing Chaya's recipe and thinking about another ingredient I've been wanting to get into our diet more, quinoa, I began

harrassing

begging and pleading

talking with The Chef about my ideas for a recipe inspired by Chaya's.
Finally, he had some time to play in the kitchen. He looked over Chaya's recipe, headed off to the grocery store, and spent some time doing what he does best. The recipe I am sharing with you today for Meatless Monday is the end result, and let me tell you, it is delicious. I actually do not care for the flavor of quinoa by itself. I think it's strong and is just different from the flavor of other grains. But combined with the other flavors in this dish, it is toned down considerably and blends well. The Chef's use of artichoke hearts and sundried tomatoes, along with the balsamic vinegar, I think, are what makes this dish.
If you have never tried quinoa or have struggled to find ways to eat it that made it enjoyable, as I have, try this one, especially if you like the flavors of sundried tomatoes and balsamic vinegar. The thing I like most about quinoa is that it is an excellent source of protein, the "perfect" ingredient for a meatless meal.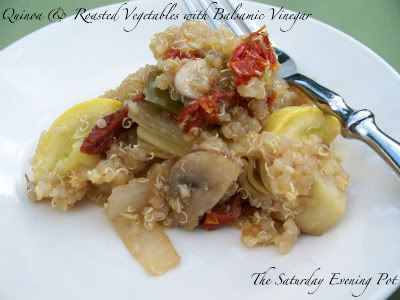 Quinoa and Roasted Vegetables with Balsamic Vinegar
1 1/2 cups uncooked quinoa

1 bell pepper, diced

1/2 large red onion, diced

1/8 cup sundried tomatoes

1/2 cup artichoke hearts, quartered

2 teaspoons garlic, minced

2 tablespoons olive oil

2 tablespoons olive oil

4 ounces portobello mushrooms, sliced

1/2 cup sliced yellow squash

3 tablespoons balsamic vinegar
Boil quinoa until al dente. Rinse, drain and set aside.

Heat 2 tablespoons olive oil in large, nonstick skillet. Saute onions until translucent.

Add bell pepper and garlic; saute approx 1 minute.

Add remaining vegetables and saute until tender.

Add 2 tablespoons balsamic vinegar and toss vegetables to coat thoroughly.

Add quinoa and fold into vegetables until thoroughly combined.

Remove from heat. Place mixture in storage container. Sprinkle with remaining tablespoon balsamic vinegar, stirring gently to combine.
We've enjoyed sharing with you today and would love for you to stop by our blog for a visit. We currently have a

100-Day Countdown to Christmas series

going on that you may like to check out, and a few of our recipes you might enjoy (not all meatless) are:
We hope you have a wonderful week with lots of great eating!
***********************************************************************************************
I love what the Chef and you have done to the original recipe and I have to try it with these wonderful additions. Thanks Anne.
OK, everyone, what are you sharing this week? Link up now and while you are here, find yourself some good recipes from the other linkys.